Playing Audio in Setlist Helper for iOS
When you navigate to the lyrics of the song you can assign an audio file to play while you are viewing the lyrics. There are 2 ways to attach audio:
Tap the "Play" button at the bottom of the lyrics screen – This will show "Attach audio…" when there is no audio attached to the song. Tap that text and will take you to the "Attach Audio" screen. 
Attach audio when adding or editing a song – When you are on the "Songs" list tap the information circle to the right of a song in the list. Scroll to the bottom of the add/edit song page and you will see an "Audio" section. Tap that and it will take you to the "Add Audio" screen.
Add Audio screen
After you use one of the options above you will see the Add Audio screen.
You will only see mp3, wav, aif, or aiff files in this view. To make your audio files appear in this view you will need to add the files through "File Sharing" described below. Only one song can be imported to a lyric. Check the song you want in the list. Then tap "Attach Audio" to allow the lyrics to play in a song. After you selected "Attach Audio" you will go to the "Lyrics" view. You will need to tap the play button again and your song will be loaded and show the toolbar shown below.
You can pause the song with the left button. Hold the button on the scrubber bar and move it to the desired audio location if needed.  To make toolbar close you need to tap the stop button on the left.
If you are viewing this lyric sheet in the "Setlist Songs > Lyrics" view you are able to swipe left and right to change the lyrics to the next song. When this happens the song will stop playing.
Adding audio files with "File Sharing"
Connect your device and open iTunes on your PC or Mac. Tap the device icon in the upper left.
Click on to the "File Sharing".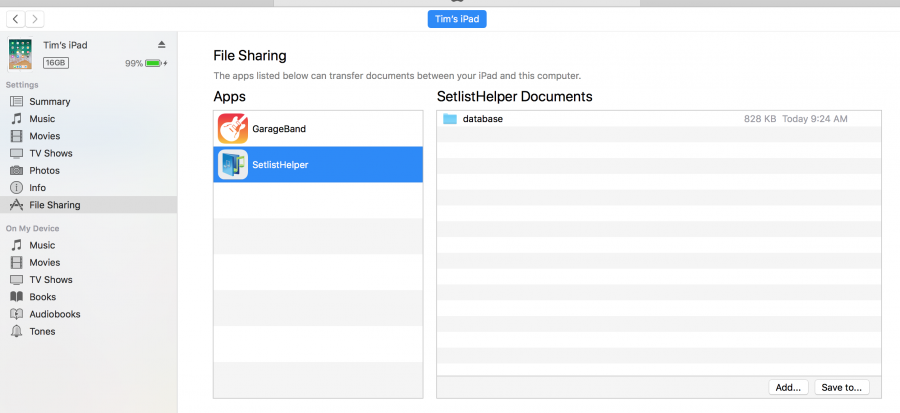 Click the Add… button and add a folder from your PC or Mac that contains mp3, wav, air, or aiff files.