Setlist Helper for iPhone and iPad
Setlist Helper Overview
Release notes for all versions of Setlist Helper for Apple devices.
Setlist Helper is an app for musicians that need a reference to their song catalog. It is meant to replace your physical songbook. You can organize your songs into a setlist. Also, you can organize your lyrics by assigning Tags to songs such as Acoustic, Dance, Worship, etc… You can search for lyrics or add your own custom lyrics.
The app should open with the "Home menu" open. To open the main menu tap the "< Home" button in the upper left. The home button will only appear if you are at one of the root level screens. Root level views are the first view that appears when you tap one of the menu items shown below.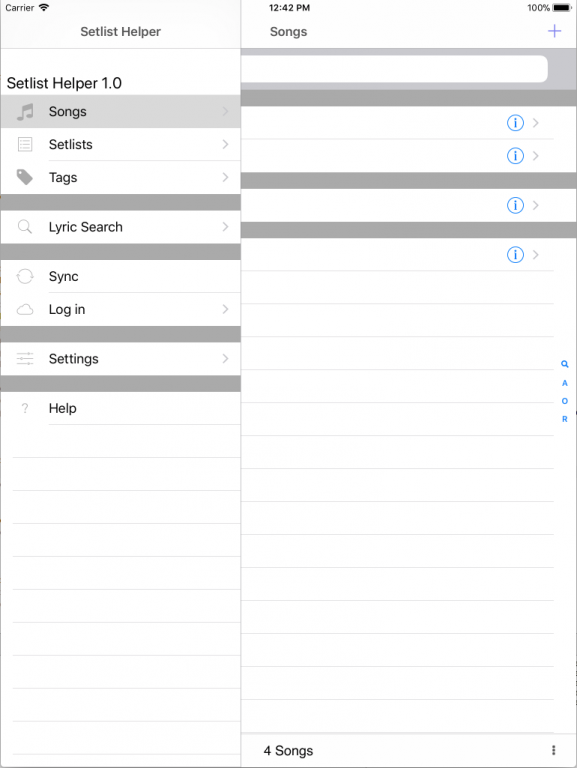 Songs – Shows you the list of all the songs in your repertoire.
Setlist – Shows you a list of all the Setlists.
Tags – Shows a list of all the tags. Tags are like categories. It is a way to organize your songs into a smaller set.
Lyric Search – Lyric search allows you to search most websites on the internet for your lyrics or lyrics with chords.
Sync – Allows you to backup your data to www.setlisthelper.com.
Log in – This is used to log into your accounts at www.setlisthelper.com
Settings – Change the settings in the app such as Dark Theme, Show/Hide song attributes in the list.
Help – Takes you the page you are looking at right now.
Where to start
You will want to start by adding your own lyrics. Below are several ways to do that.
Searching for lyrics
Importing lyrics
Adding custom lyrics
Backing up your data
Working with songs
Adding, Editing, and Deleting songs
Showing song attributes on the song list.
Importing and Exporting your song list.
Updating and Downloading Dropbox Files.
Working With Lyrics
Edit Lyrics
Play Button Actions
Playing Audio
Metronome
Transpose
Changing scale
Auto-scroll
Adjusting the text size, color, and font help
Printing Lyrics
Sharing Lyrics
Working with setlist
Adding, editing, and deleting a setlist
Working with Setlist Songs to a setlist
Working with Tags
What are tags? Adding, editing or deleting tags.
Organizing songs with tags.
Sharing your data
Bluetooth Pedal